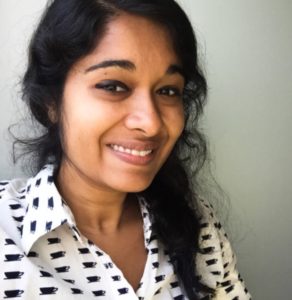 Stokely Baksh is a Baltimore-based visual journalist with audio, photo, video, and illustration skills.
She has shot video for the Wall Street Journal and Baltimore Sun, and researched and reported for United Press International, the Center for Public Integrity, and the Investigative Reporting Workshop.
Her work has also appeared on ABC World News, PBS' Need to Know and in Colorlines, Mother Jones, Indymedia, and The New Republic.
As a 2010 Soros Justice Fellow, she co-produced the Deportation Nation project, which looked at the impact of the controversial immigration enforcement program Secure Communities.
She is also a co-producer of the 2008 investigative site Business of Detention, which looked at the private prison industry in immigration detention. The project won the Melvin Mencher Award for Superior Reporting and the James A. Wechsler Memorial Award for National Reporting. It was also also a 2009 SXSW Interactive Web Award Finalist and a 2009 Webby Award Nominee.
More recently, Baksh was a social media editor and multimedia producer at the Baltimore Sun, where she headed up their visual journalism blog "The Darkroom."
Currently, she is an adjunct lecturer at the Philip Merrill College of Journalism at the University of Maryland.
Baksh is also a graduate of Columbia University's Graduate School of Journalism and American University.
[Oh… still reading?]
In between shooting videos and honing her illustration and animation skills, Baksh does spend part of her day being bossed around by a toddler. She continues to work diligently on a children's book (possibly about a girl and a dog… and a penguin, a polar bear, Einstein, and Frankenstein).
Contact: Stokelyb[@]gmail[.]com